Blooria is an easy, clean and modern multipurpose ghost blog theme. This theme is for bloggers, journalists, activists, writers, authors. This will support all devices like desktop, tablet, mobile. It has a lot of features that you need.
N.B. THIS IS NOT A WORDPRESS THEME. PLEASE NOTE THAT WE DO NOT PROVIDE REFUNDS FOR MISTAKEN PURCHASES.
Dark Light Variations
Blooria supports dark and light mode for all users in any device. Anyone can choose either light mode or dark mode for the default system. We are showing dark mode by default first.
Slider with Title highlighter
We have made fast loading awesome slider for users, you will need to select featured template then it will be shown on Slider, and when a user place mouse courser on any post title then the title will play slowly with highlighting features.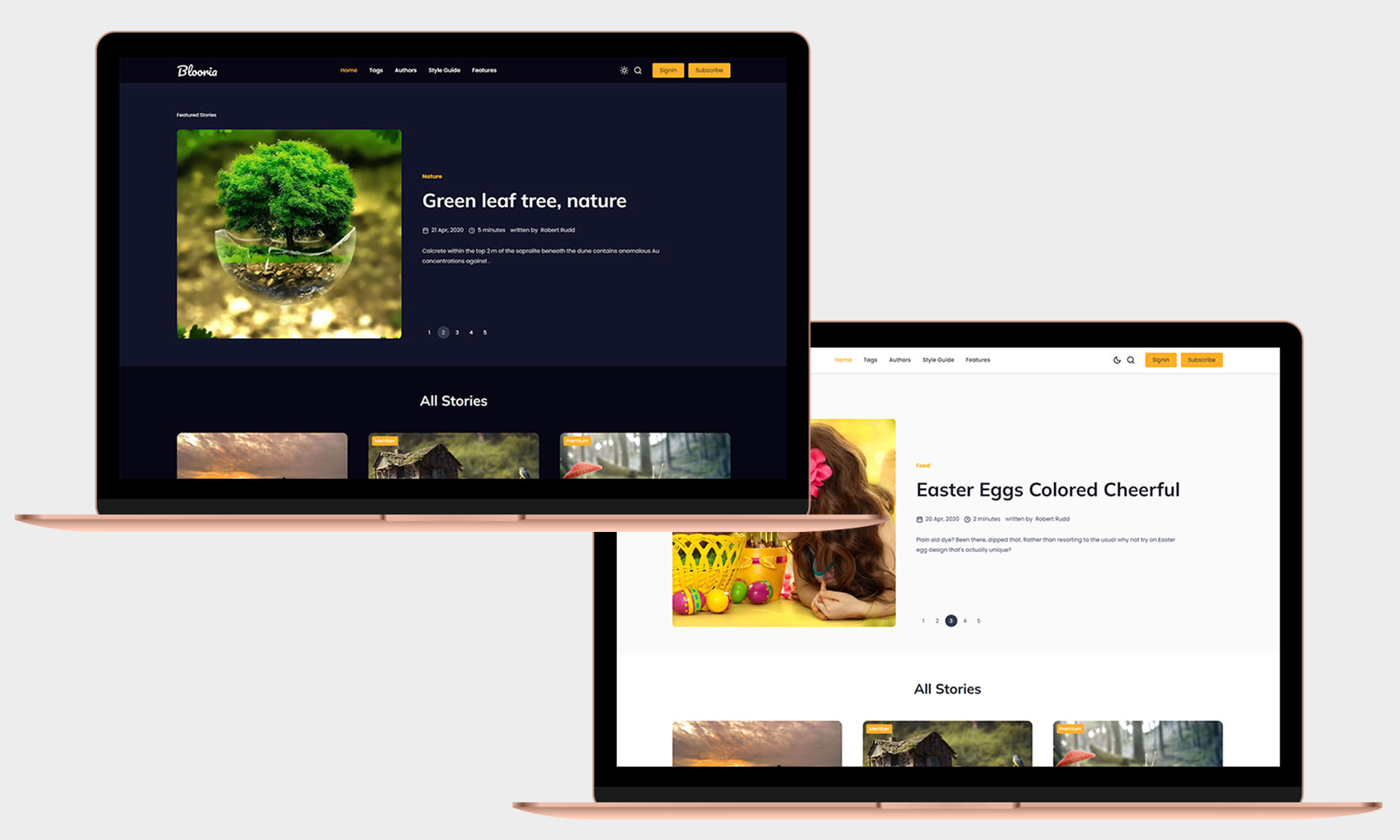 Post feed
We made an eye-catching post feed, there will all post in All Stories
section and also you will find Catagrois post with popular tags see below or browse this link.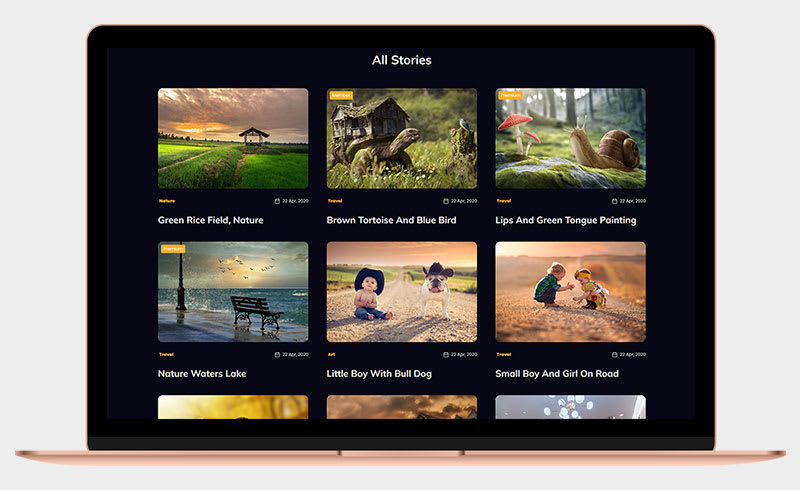 Awesome Footer
Blooria has an awesome footer that has eye-catching color combinations three-section that all you need, About, Important link, and Social profile and also credit section.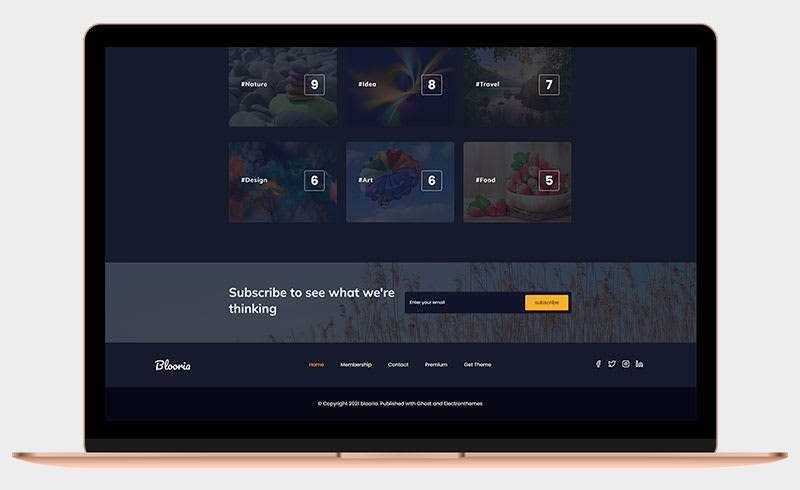 Pages & Post
Membership & Subscription
Blooria comes with Membership & Subscription features, so if you want you will be able to enable membership and subscription and distribute your content as you want to your site visitors. See Here.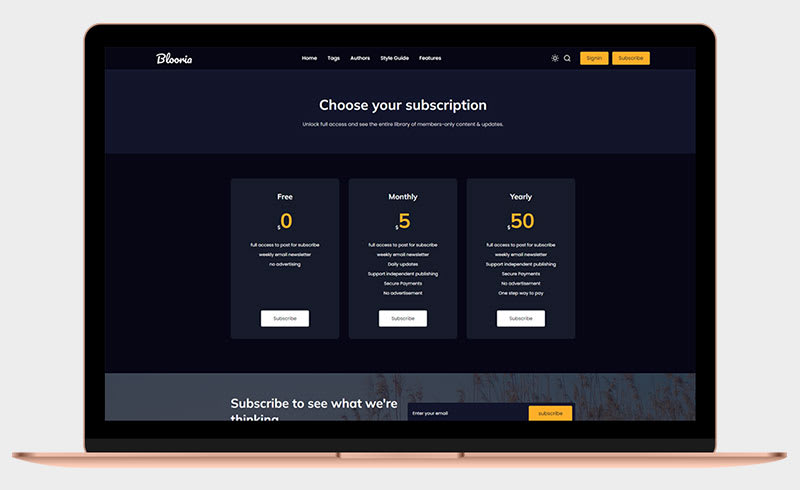 Account Settings
If a paid member on your site wants to change billing or want any change they will be able to do that easily. They can easily manage their membership from the account page. They will find all the information related to members to edit the card information and manage the cancellation of the subscription.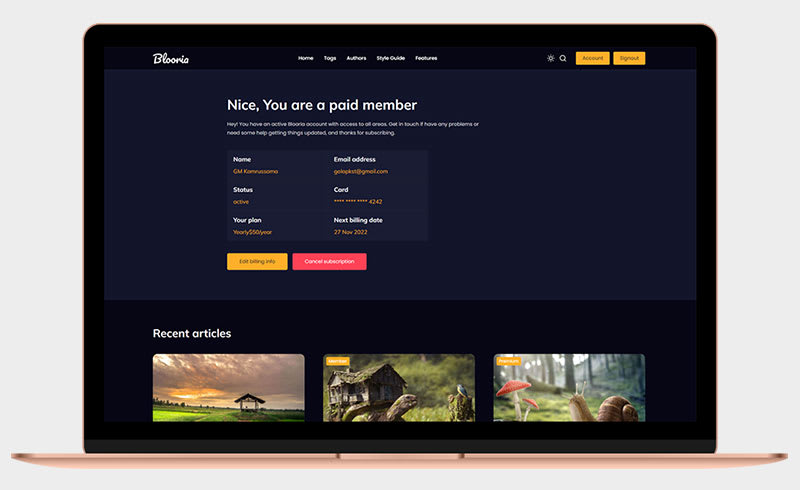 Custom sign-in page
We have made a simple quiet design sign-in and Sign-up page!
Post Access
Blooria comes with 3 different categories of post access systems like Public, Member Only, and Paid Members only. So you will be able to lock any post for paid members or unlock for free members any post:
Member-only Post
Who will be signup on your site only they will be able to visit these types of posts. Example.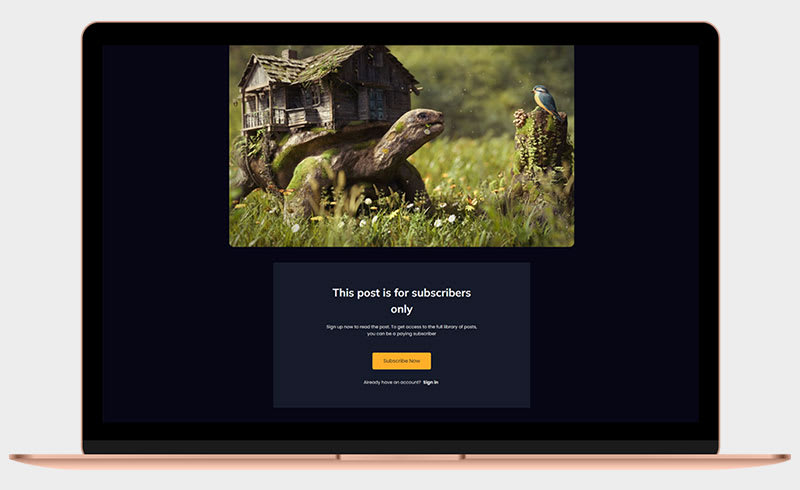 Paid Member-only Post
Who will be your paid member on your site only they will be able to visit these types of posts. Example.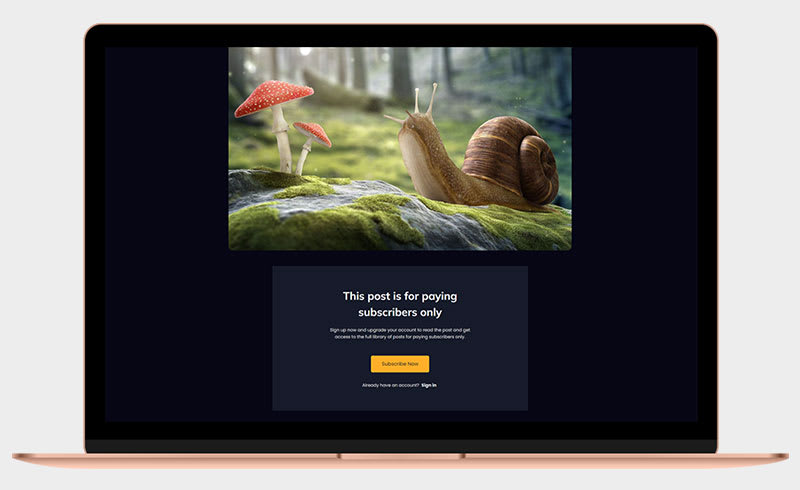 Custom Post and Page Template
Blooria comes with various custom templates for posts and pages. You will find all the post templates and page templates in the template section. Look below some page and post templates:
Tags Page
This page will show all the tags and post counts of your publications. Tags Page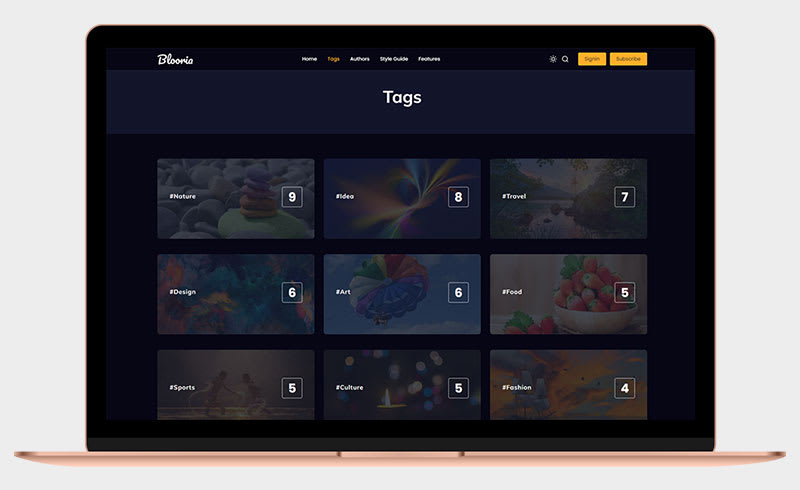 Single Tag Page
Blooria comes with an eye-catching design single-tag page. In a single tag, page has tag name, post counting, published date, and all the posts step by step.
Authors Page
This page will show all the authors with Bio, location, and social profiles of your publications. Authors page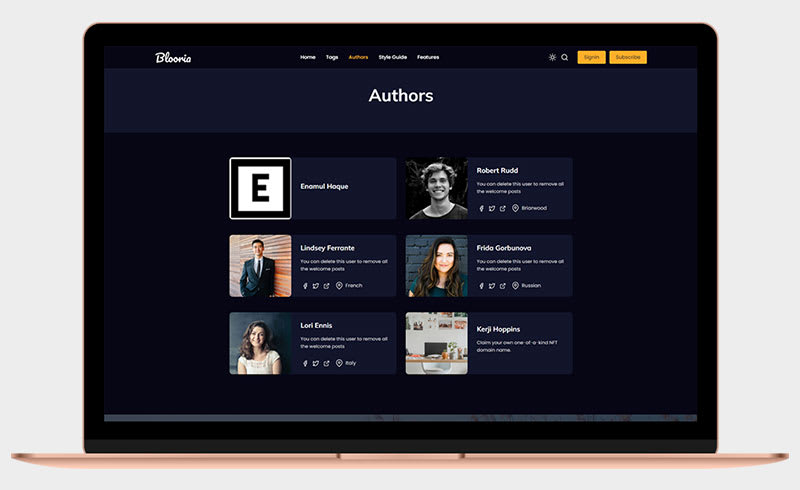 Single Author Page
Blooria comes with an eye-catching design single-author page. In single author page has author image, name, bio, social profiles, location, and all the posts step by step with post categories, posted date, and also post membership status; paid or free tag.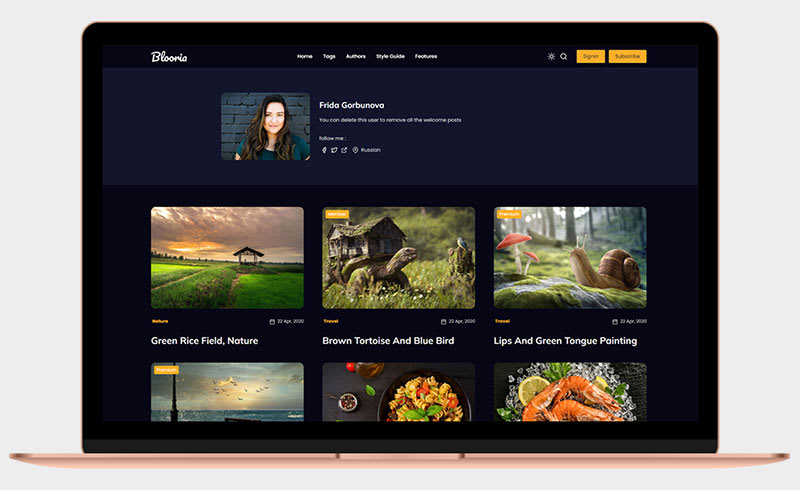 Contact Page
blooria comes with an awesome contact page layout, there has an contact details with a contact form. If anyone wants to contact you, he can easily use the contact page. See contact page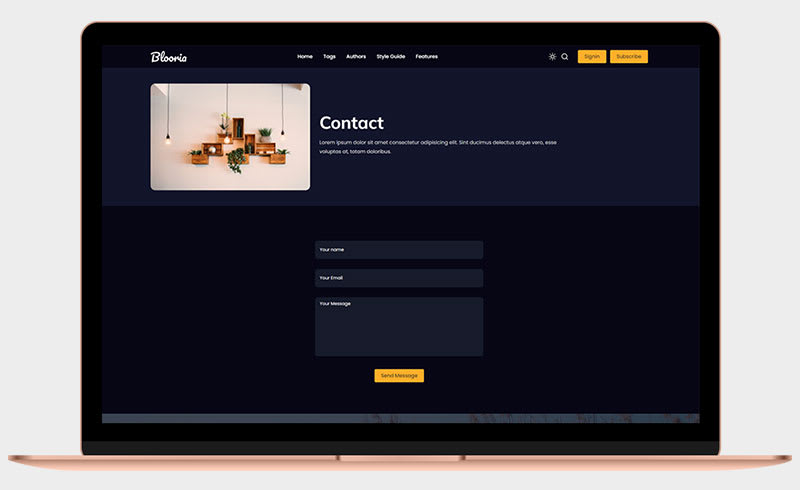 Find Your Article Faster
Blooria shows real-time search results when you type your keyword. It generates post titles and excerpts from Content API when start typing.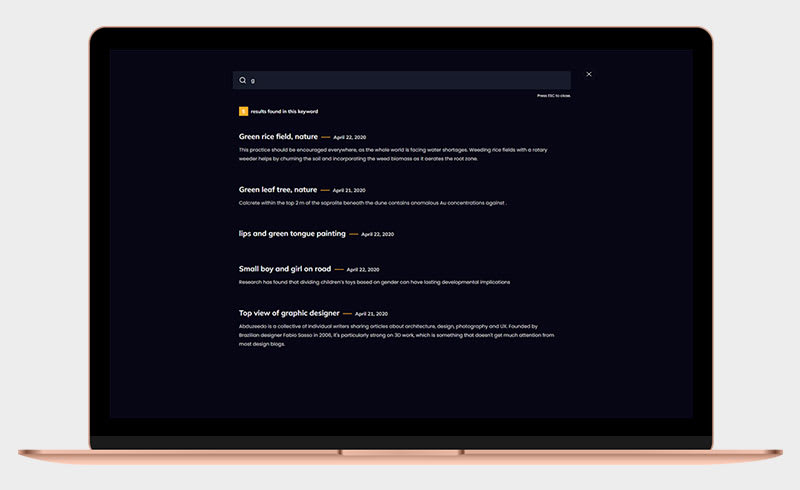 General Features
Dark and Light Mode
Ghost 5.x Support
Clean Design
Responsive Theme
W3 validated Code
Content API v5
Publication title and description
Primary Navigation
Secondary Navigation
Social accounts link
Publication icon, logo and cover image
Tags with name description and image
Featured post slider
Primary tag
Primary author
Multi author
Popular tags
Cool footer design
Tag list
Tag feature image
Tag post count
Tag description
Tag posts
Author lists
Author cover image
Author Social links
Author Posts
Load more posts button
Koenig Editor
Gallery and Bookmark and all other inbuilt card in Koenig editor
Responsive YouTube, Vimeo and all other embed
Normal image
Wide and full width image support
Medium zoom image
Gallery support
Social post share
Related posts
Post navigation
Disqus comment box
Built on Bootstrap 4.x
Font awesome icons
Subscription form
24/7 Support
SEO friendly code
Image lazy load
Layouts
Lots of blog layouts to choose from. All work with or without the featured slider and sidebar.
Featured posts
Grid posts
Full posts
Excerpt posts
Grid portfolio posts
Members & subscriptions
Custom membership page
Subscriber form
Custom signin popup form
Custom signup popup form
Custom account page
Custom premium post design
Custom Subscriber only post
Pricing tables: Free, Monthly, Yearly
Sign-in, sign-up, subscribe and checkout notifications
Pages
Homepage
Single post
Single Page
Single Tag page
Single Author page
Custom Membership page
Custom Account Page
Custom Tag list page
Custom Author list page
Custom contact page
Custom error page
Page Speed
Credit
Fonts and Icon Fonts
Google Fonts
Dafontfree Fonts
Feather Icons
Images
Plugins and libraries