Compatible with Ghost version 5.0 and up
Docslab is a knowledge base and documentation ghost theme. It is very useful and helpful for software, SASS application, and other platform documentation. Anyone can make his documentation for his company using Docslab.
We created this documentation theme with a minimal design and the best user experience. It will give your user the best readability experience and will help to focus on the targeted points of your applications.
Docslab is based on modern design and outlooks and a fully mobile responsive documentation theme. If you are looking for a documentation theme for your application on the Ghost platform, you are on the right place to choose a documentation theme. This theme is fully supported with Membership and Subscription of Ghost version 5.0.
Dark Light Variations
Docslab supports dark and light modes for all users in any device. Anyone can choose either light mode or dark mode for the default system. We are showing Light mode by default first.
Home and Post feed
In Docslab We have made fast loading awesome post feed with all kinds of information for users easy to use, in the home page you will see firstly a search box to find anything in second, and then we place all the article (docs) section with pagination, then we place a FAQ section for quick answers, and then we place quick contact page link, Team members. We made Docslab user-friendly and it is the most easy-to-use UI and UX for all kinds of users.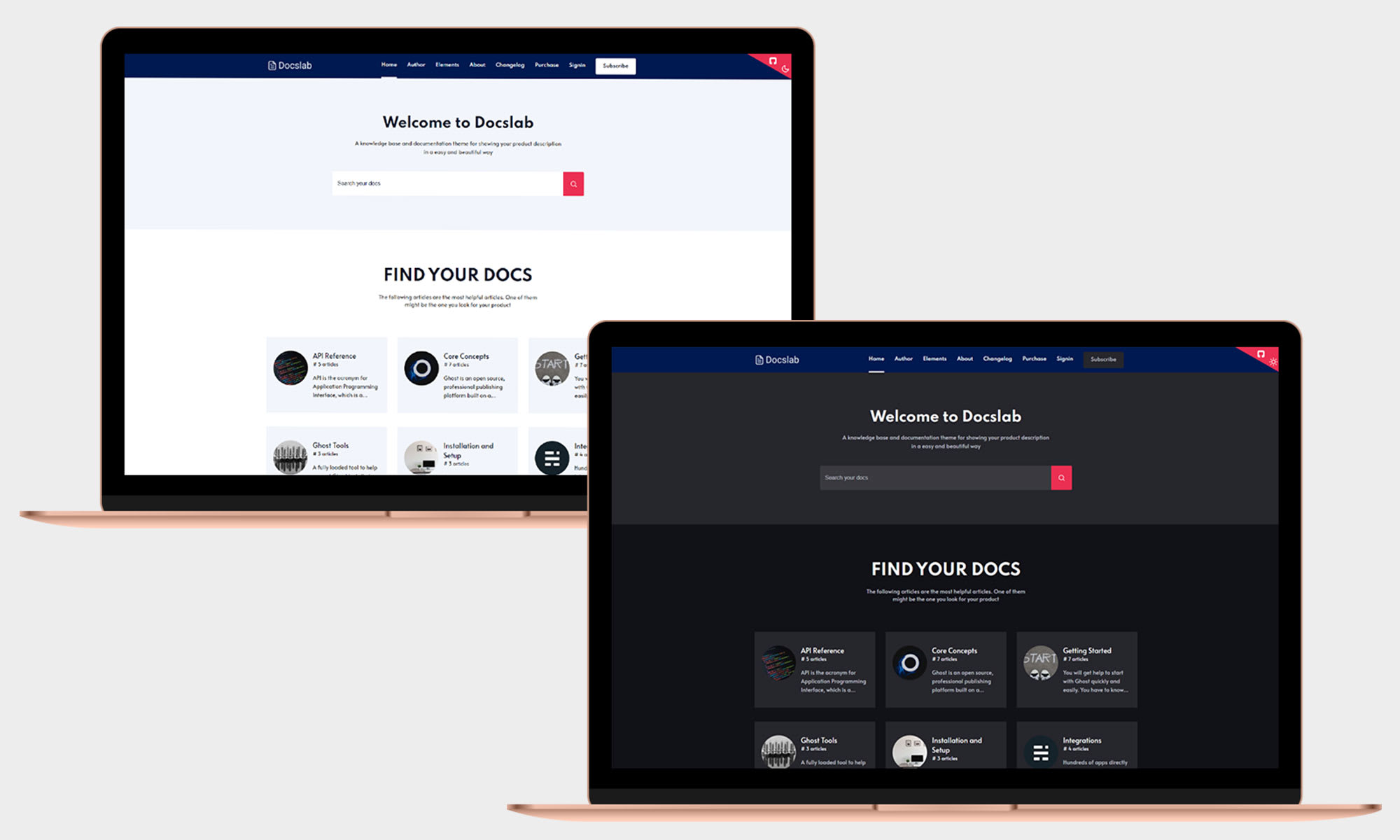 RTL Supported
Docslab is now RTL supported theme. If your language is on RTL, you can easily use our theme and make a beautiful website or documentation.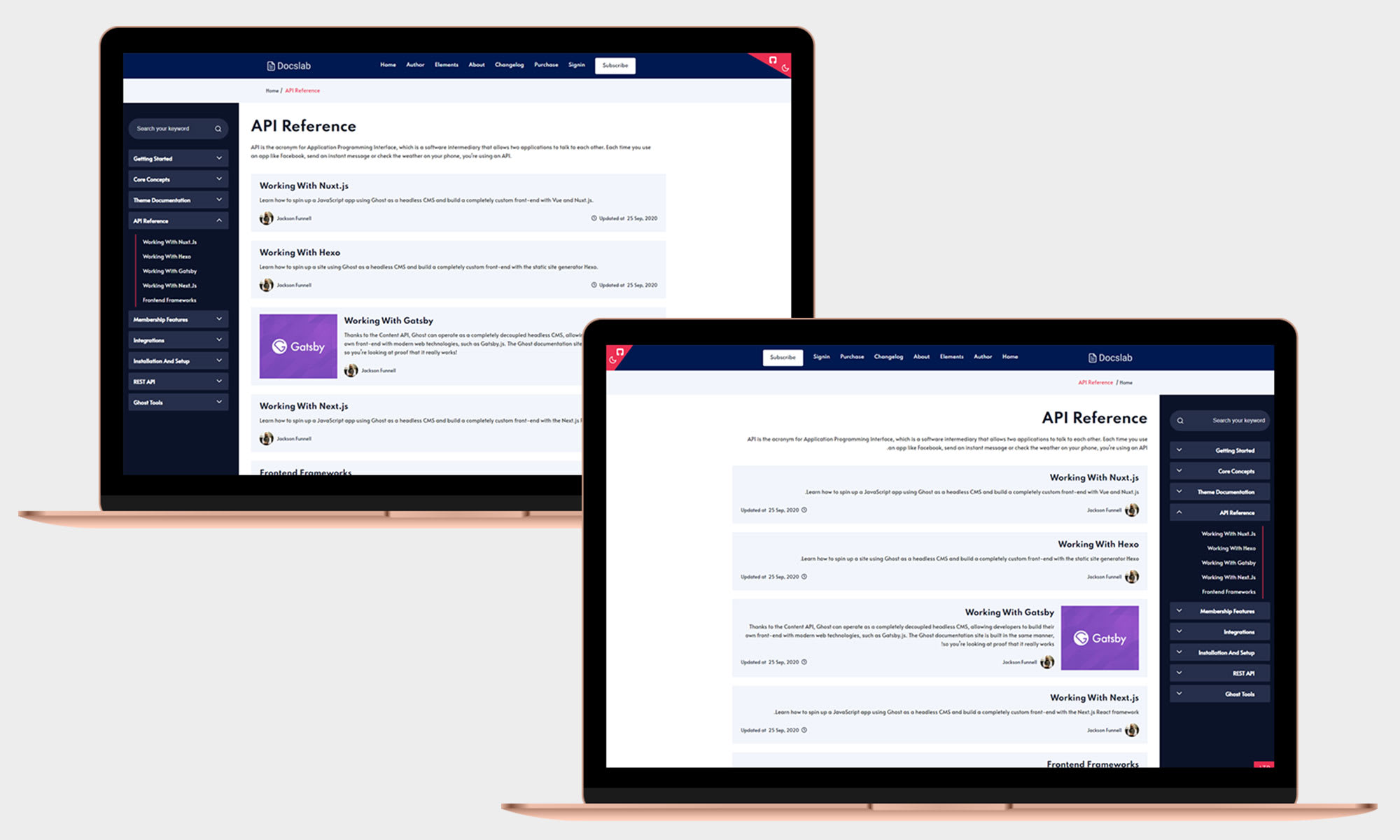 Awesome Footer
Docslab has an awesome footer that has eye-catching color combinations four-section that all you need, About, popular Docs Link, Important link, and Social profile.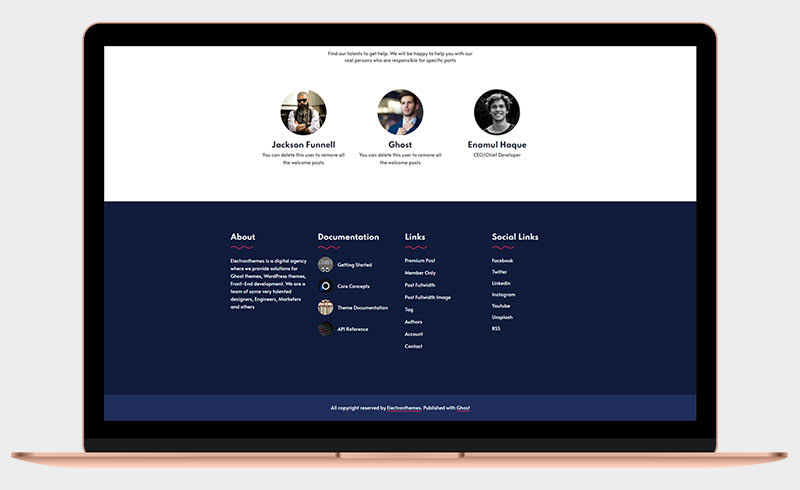 Pages & Post
Membership & Subscription
Docslab comes with Membership & Subscription features, so if you want you will be able to enable membership and subscription and distribute your content as you want to your site visitors. You can easily make money with writing. We have written good documentation on how can you integrate Stripe with this. See Here.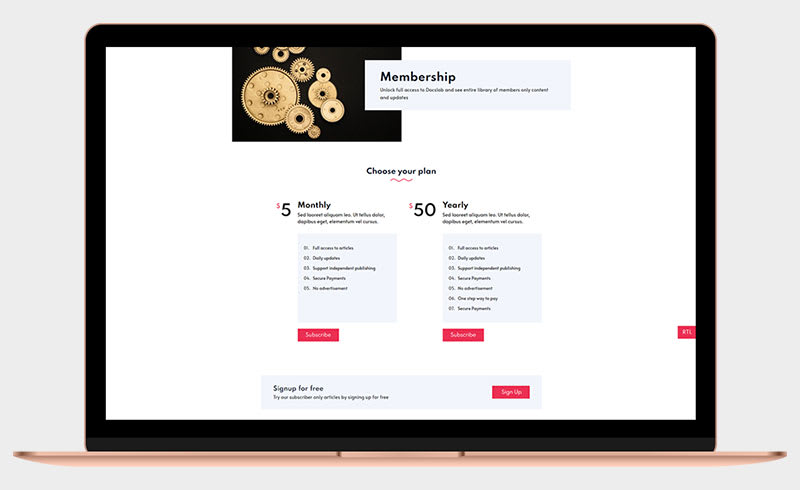 Account Settings
If a paid member on your site wants to change billing or want any change they will be able to do that easily. They can easily manage their membership from the account page. They will find all the information related to members to edit the card information and manage the cancellation of the subscription.
Custom sign-in and sign-up page
We have made a simple quiet design sign-in and Sign-up page!
Post Access
Docslab comes with different categories of post access systems like Public, Member Only, and Paid Members only. So you will be able to lock any post for paid members or unlock for free members any post:
Member-only Post
Who will be signup on your site only they will be able to visit these types of posts. Example.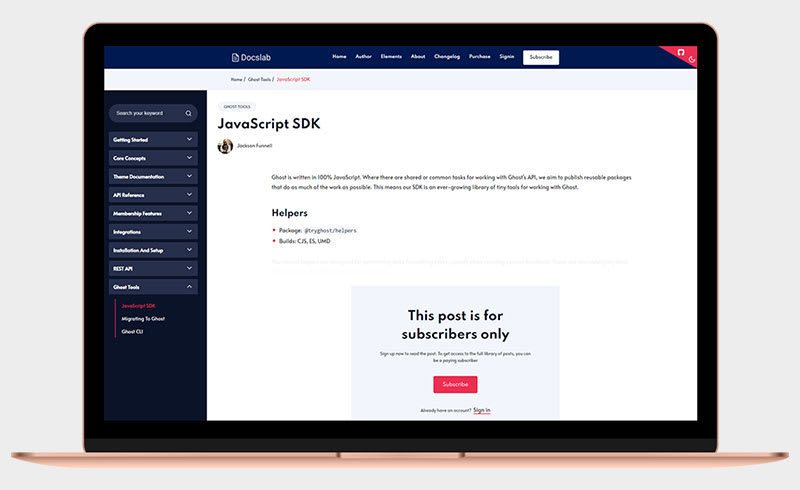 Paid Member-only Post
Who will be your paid member on your site only they will be able to visit these types of posts. Example.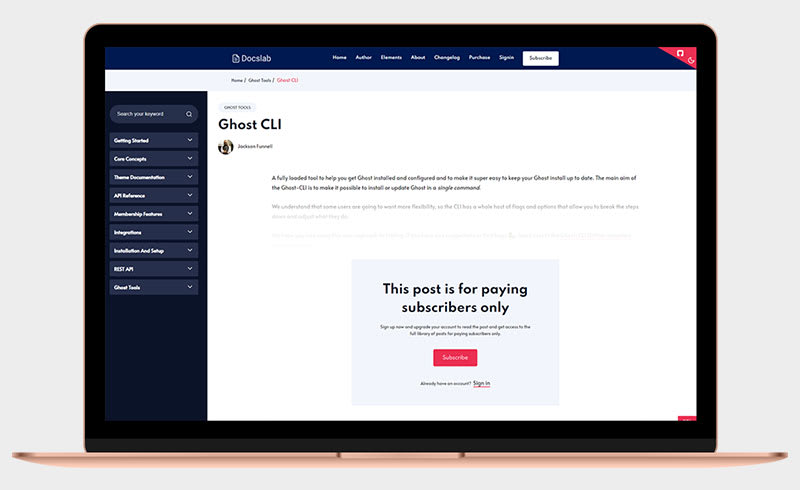 Custom Post and Page Template
Docslab comes with various custom templates for posts and pages. You will find all the post templates and page templates in the template section. Look below some page and post templates:
Authors Page
This page will show all the authors with Bio, locations, and social profiles of your publications. Authors page

Single Author Page
Docslab comes with an eye-catching design single-author page. In single author page has author image, name, bio, post counting, and all the posts step by step with post categories posted date and etc.

Contact Page
Docslab comes with an awesome contact page layout, there has contact details with a contact form. If anyone wants to contact you, he can easily use the contact page. See contact page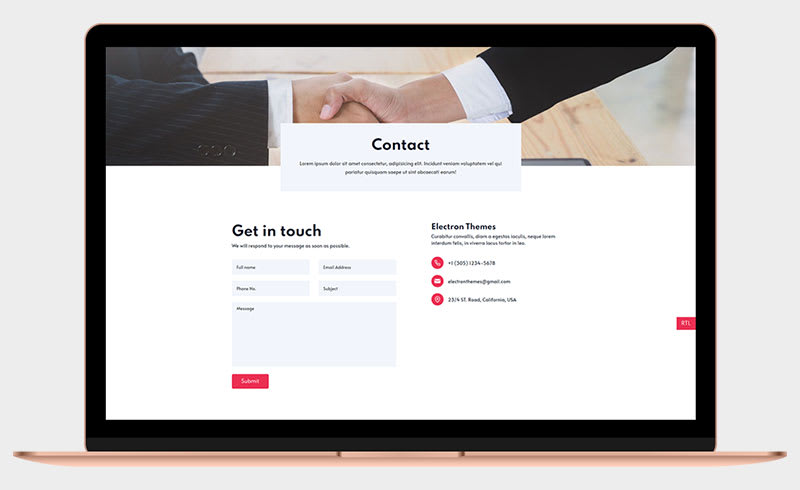 Full-Width Post
Dosclab support full-width post and also it will support full-width images, so you will be able to publish your content as you want! Post Link, Image link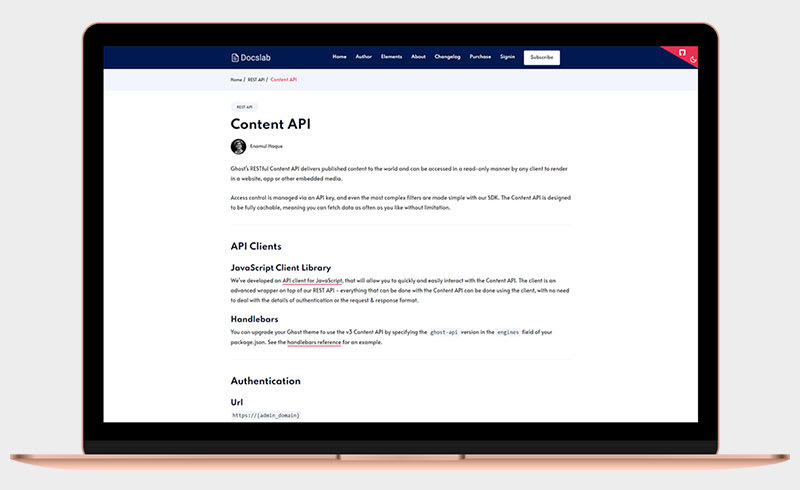 Find Your Article Faster
Docslab shows real-time search results when you type your keyword. It generates post titles and excerpts from Content API when start typing.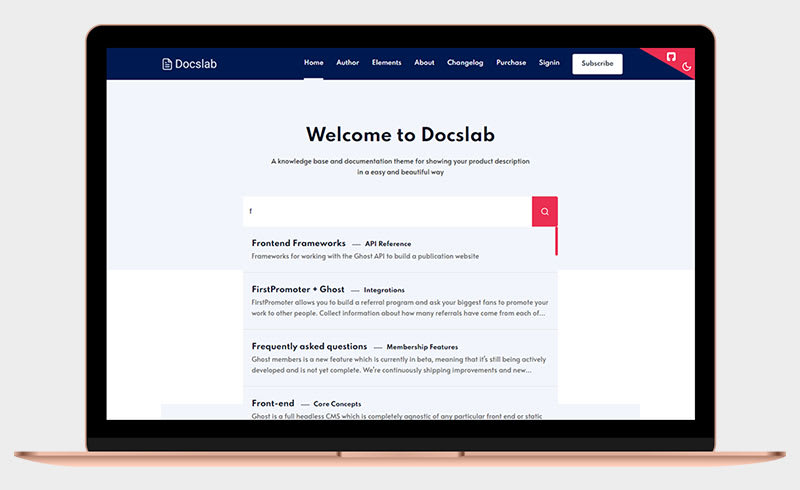 Payment testing
Genuine card information cannot be used in test mode. Instead, use any of the following test card numbers.
General Features
RTL Supported
Dark and Light Mode
Github link
100% responsive design for all devices
W3 validation code
2 Google fonts
Very light-weight theme
Fast loading
SVG icons
Easily customizable
SASS supported
Well written documentation
Supported with image and without images
Translation Ready
Ghost inbuilt features
Ghost supported v5.x
Publication and Description
Publication cover
Publication logo and icon
Social accounts
Koenig Editor
Primary Navigation
Secondary Navigation
General posts and pages
Tags
Authors
Responsive Content
Gallery
Bookmark
HTML code
Code Highlighter
Share posts on social media
Post Navigation
Load more options
Translation ready to other language
Subscription features
Membership
Signin
Signup
Notifications
Pages
Homepage
Post page
Tag page
Author page
Error
Page
Error-404
Custom Pages
Custom Author list
Custom Tag list
Custom Contact
Custom Account
Custom Membership
Custom Signin
Custom Signup
Custom Changelog
Additional Ghost Features
Disqus comment box
Table of contents
Custom Alert box
Bredcrumb navigation
Faq feature
Custom Contact promo
Help desk authors
About section
Beautiful footer
Documentation load more button
Tag list sidebars
Copy url with click
Formspree for contact form
Medium zoom
Mobile menu support
SVG logo
Syntax highlighting
Custom buttons
Members & subscriptions
Pricing tables: Free, Monthly, Yearly
Pricing tables in custom account and membership page
Custom Call-to-Action
Sign-in, sign-up, subscribe and checkout notifications
Test Result
Credits
Fonts used